Compatible with Lincoln Continental 1990-2002 Factory Replacement Radio Stereo Powered Antenna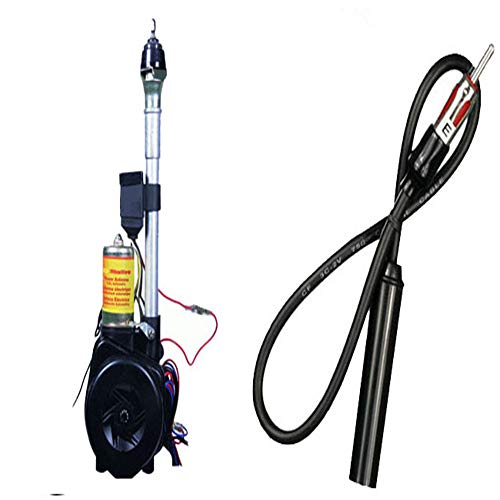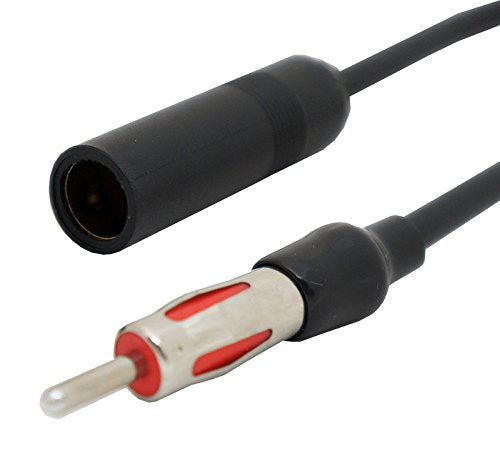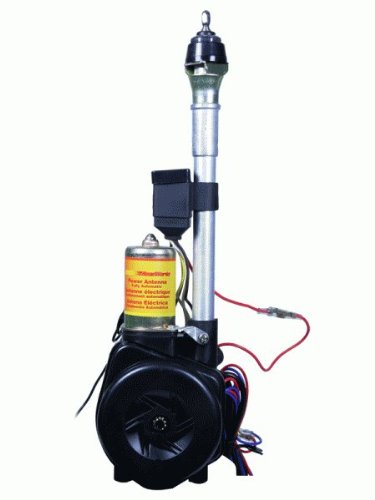 Compatible with Lincoln Continental 1990-2002 Factory Replacement Radio Stereo Powered Antenna
Brand: Metra
SKU: 44-PW20 ANTEXT12
Availability: In Stock
Guaranteed Fitment
Always the correct part
In-House Experts
We know our products
Description
Product highlights
Shipping + Returns
Contact Us
Metra 44-PW20 Compatible with Lincoln Continental 1990-2002 Factory Replacement Radio Stereo Powered Antenna
This Package Includes the Following Items:

1 x Metra 44-PW20 Replacement Power Antenna for Select Ford Vehicles
1 x American Terminal ANTEXT12 Motorolla Style 12" Antenna Extension Cable
Metra 44-PW20 Replacement Power Antenna for Select Ford Vehicles

Factory power antennas can periodically break from day-to-day use and some rougher conditions. It is also possible for your antenna to completely cut out and no longer properly transmit the signal. No need to worry if you're favorite station is coming in as an inaudible crackle. Replacement antennas are manufactured for specific vehicle years and make, so a replacement solution is simple!
General Features:
Replacement Power Antenna for Select Ford, Lincoln, and Mercury Vehicles
Replaceable mast
Fully Automatic
Detachable cable
Custom mounting bases included
Authorized Internet Dealer
1-year Manufacturer's warranty

American Terminal ANTEXT12Motorolla Style 12" Antenna Extension Cable

General Features:

Motorolla Style 12" Antenna Extension Cable
Simply plug and play installation, no cutting required
Ideal for aftermarket or factory radio
Direct OEM fit connection
Compatible Vehicles:
1952 Lincoln Capri
1952 Lincoln Cosmopolitan
1953 Lincoln Capri
1953 Lincoln Cosmopolitan
1954 Lincoln Capri
1954 Lincoln Cosmopolitan
1954 Mercury Custom
1955 Lincoln Capri
1956 Lincoln Capri
1956 Lincoln Mark II
1956 Lincoln Premier
1956 Mercury Custom
1957 Lincoln Capri
1957 Lincoln Mark II
1957 Lincoln Premier
1957 Mercury Commuter
1958 Lincoln Capri
1958 Lincoln Continental
1958 Lincoln Premier
1958 Mercury Commuter
1959 Lincoln Capri
1959 Lincoln Continental
1959 Lincoln Premier
1959 Mercury Commuter
1959 Mercury Country Cruiser
1960 Lincoln Continental
1960 Lincoln Lincoln Series
1960 Lincoln Premier
1960 Mercury Comet
1960 Mercury Commuter
1961 Lincoln Continental
1961 Mercury Comet
1961 Mercury Commuter
1962 Lincoln Continental
1962 Mercury Comet
1962 Mercury Commuter
1963 Lincoln Continental
1963 Mercury Comet
1964 Lincoln Continental
1964 Mercury Caliente
1964 Mercury Comet
1964 Mercury Commuter
1965 Lincoln Continental
1965 Mercury Breezeway
1965 Mercury Caliente
1965 Mercury Comet
1965 Mercury Commuter
1966 Lincoln Continental
1966 Mercury Breezeway
1966 Mercury Caliente
1966 Mercury Commuter
1967 Lincoln Continental
1967 Mercury Breezeway
1967 Mercury Brougham
1967 Mercury Caliente
1967 Mercury Commuter
1967 Mercury Cougar
1968 Lincoln Continental
1968 Lincoln Mark III
1968 Mercury Commuter
1968 Mercury Cougar
1968 Mercury Montego
1969 Lincoln Continental
1969 Lincoln Mark III
1969 Mercury Cougar
1969 Mercury Cyclone
1969 Mercury Marauder
1969 Mercury Montego
1969 Mercury Monterey
1970 Lincoln Continental
1970 Lincoln Mark III
1970 Mercury Cougar
1970 Mercury Cyclone
1970 Mercury Montego
1970 Mercury Monterey
1971 Lincoln Continental
1971 Lincoln Mark III
1971 Mercury Capri
1971 Mercury Comet
1971 Mercury Cougar
1971 Mercury Cyclone
1971 Mercury Montego
1971 Mercury Monterey
1972 Lincoln Continental
1972 Lincoln Mark IV
1972 Mercury Capri
1972 Mercury Comet
1972 Mercury Cougar
1972 Mercury Montego
1972 Mercury Monterey
1973 Lincoln Continental
1973 Lincoln Mark IV
1973 Mercury Capri
1973 Mercury Comet
1973 Mercury Cougar
1973 Mercury Montego
1973 Mercury Monterey
1974 Lincoln Continental
1974 Lincoln Mark IV
1974 Mercury Monterey
1975 Lincoln Continental
1975 Mercury Marquis
1976 Lincoln Continental
1977 Lincoln Continental
1978 Lincoln Continental
1979 Lincoln Continental
1980 Lincoln Continental
1981 Ford CL-9000
1981 Ford Cargo
1981 Ford FT 900
1981 Ford L 9000
1981 Ford LT-9000
1981 Ford LTL 9000
1982 Ford CL-9000
1982 Ford Cargo
1982 Ford L 9000
1982 Ford LT-9000
1982 Ford LTL 9000
1982 Ford LTS 9000
1982 Lincoln Continental
1983 Ford CL 9000
1983 Ford CL 9000 OPT
1983 Ford CL-9000
1983 Ford CLT 9000
1983 Ford Cargo
1983 Ford L 9000
1983 Ford LS 9000
1983 Ford LT 9000
1983 Ford LT-9000
1983 Ford LTL 9000
1983 Ford LTS 9000
1983 Lincoln Continental
1984 Ford CL 9000
1984 Ford CL 9000 OPT
1984 Ford CL-9000
1984 Ford CLT 9000
1984 Ford Cargo
1984 Ford FT-900
1984 Ford L 9000
1984 Ford LS 9000
1984 Ford LT 9000
1984 Ford LT-9000
1984 Ford LTL 9000
1984 Ford LTS 9000
1984 Lincoln Continental
1985 Ford CL 9000
1985 Ford CL 9000 OPT
1985 Ford CL-9000
1985 Ford CLT 9000
1985 Ford Cargo
1985 Ford FT-900
1985 Ford L 9000
1985 Ford LS 9000
1985 Ford LT 9000
1985 Ford LT-9000
1985 Ford LTL 9000
1985 Ford LTS 9000
1985 Lincoln Continental
1986 Ford CL 9000
1986 Ford CL 9000 OPT
1986 Ford CL-9000
1986 Ford CLT 9000
1986 Ford Cargo
1986 Ford F 800
1986 Ford FT-900
1986 Ford L 9000
1986 Ford LS 9000
1986 Ford LT 9000
1986 Ford LT-9000
1986 Ford LTL 9000
1986 Ford LTS 9000
1986 Lincoln Continental
1987 Ford CL 9000
1987 Ford CL 9000 OPT
1987 Ford CL-9000
1987 Ford CLT 9000
1987 Ford Cargo
1987 Ford F 800
1987 Ford FT 800
1987 Ford FT-900
1987 Ford L 9000
1987 Ford L 9000 OPT
1987 Ford LS 9000
1987 Ford LS 9000 OPT
1987 Ford LT 9000
1987 Ford LT 9000 OPT
1987 Ford LT-9000
1987 Ford LTA 9000 OPT
1987 Ford LTL 9000
1987 Ford LTL 9000 OPT
1987 Ford LTLA 9000 OPT
1987 Ford LTLS 9000 OPT
1987 Ford LTS 9000
1987 Ford LTS 9000 OPT
1987 Lincoln Continental
1988 Ford CL 9000
1988 Ford CL 9000 OPT
1988 Ford CLT 9000
1988 Ford Cargo
1988 Ford F 800
1988 Ford FT 800
1988 Ford FT-900
1988 Ford L 9000
1988 Ford L 9000 OPT
1988 Ford LS 9000
1988 Ford LS 9000 OPT
1988 Ford LT 9000
1988 Lincoln Continental
1989 Lincoln Continental
1990 Lincoln Continental
1990 Mercury Grand Marquis
1991 Mercury Cougar
1997 Mercury Mountaineer
1998 Lincoln Continental
1998 Mercury Mountaineer
1999 Lincoln Continental
1999 Mercury Grand Marquis
1999 Mercury Mountaineer
2000 Mercury Mountaineer
2001 Mercury Cougar
2001 Mercury Mountaineer
2002 Lincoln Blackwood
2002 Mercury Mountaineer
2003 Lincoln Aviator
2003 Mercury Mountaineer
2004 Mercury Grand Marquis
2007 Lincoln MKX
2007 Lincoln Town Car
2008 Lincoln MKX
2008 Lincoln MKZ
2008 Lincoln Town Car
2008 Mercury Grand Marquis
2009 Lincoln Navigator
2009 Lincoln Town Car
2010 Lincoln Town Car
2011 Lincoln MKS
2011 Lincoln MKT
2011 Lincoln MKX
2011 Lincoln MKZ
2011 Lincoln Navigator
2011 Lincoln Town Car
2011 Mercury Grand Marquis
2011 Mercury Mariner
2011 Mercury Milan
2012 Lincoln MKT
2012 Lincoln MKZ
2013 Ford Edge
2013 Ford Taurus
2013 Lincoln MKS
⚠️Warning:
Cancer and Reproductive Harm-www.P65Warnings.ca.gov
Shipping Policy
Absolute Pro Music is proud to offer fast shipping at affordable prices. The shipping fee for each order is based on the package weight, destination, and shipping method. For the most accurate shipping information, use the "Get shipping quote" link on the product pages or in your shopping cart.
Shipping Methods and Transit Times
Absolute Pro Music ships orders from our Los Angeles, California location. On occasion, orders will be fulfilled directly by the manufacturer or distributor in order to reduce the shipping time. The shipping times below refer to items labeled with an availability of In Stock - Ships the Same or Next Business Day.
| | | | |
| --- | --- | --- | --- |
| Shipping Method | Order Processing Time | Delivery Time | Total Ship Time |
| Standard Shipping | 1-24 Hours | 1-6 Business Days | 2-7 Business Days |
| Three-Day Shipping | 1-24 Hours | 3 Business Days | 3-4 Business Days |
| Two-Day Shipping | 1-24 Hours | 2 Business Days | 2-3 Business Days |
| One-Day Shipping | 1-24 Hours | 1 Business Days | 1-2 Business Days |
| Flat Rate Shipping | 1-24 Hours | 7-10 Business Days | 8-11 Business Days |
United States Customers:
The shipping methods listed above are for residential and commercial destinations within the continental 48 United States. Absolute Pro Music primarily uses FedEx to ship orders. To provide the most affordable rates, small items shipped via Standard Flat Rate or USPS First Class Mail will be delivered through a joint effort by DHL and USPS. Shipments to military addresses and PO Boxes will only ship via USPS. When shipping to a military APO/FPO/DPO address, we strongly recommend choosing USPS Priority as the shipping time is much quicker than Parcel and averages about 2-3 weeks.
Canadian Customers: We offer all-inclusive shipping to our Canadian customers. (click here for details)
International Customers: We ship to most countries around the world. (click here for details)
Order Tracking
Once an order has been shipped, we send our customers an email with the tracking number for the order. Click on the tracking link in the email to follow the location of the package on the carrier's website. If you did not receive a tracking number by email or need to confirm the tracking information, please contact us at support@absolutepromusic.com or call us at +1(213) 744.11.44
Order Processing
Each order placed on Absolute Pro Music goes through our processing department before it can be shipped. If 3 business days have passed since you submitted payment and you have not received an email with tracking information, please log in to your account to track your orders and/or contact us immediately via email or phone. Customers who do not receive a tracking number within 3 days will receive an order status update via email.
Shipping to Alternate Address
Orders with different billing and shipping addresses may require longer processing times due to an additional verification procedure. The additional verification and processing time are in an effort to protect our customers from online fraud.
Shipping Changes Fees (Address Intercept)
If a request to change the shipping address is made after the package leaves the Absolute Pro Music warehouse, it is subject to an Address Intercept Fee imposed by the shipping carrier. The amount of the fee varies according to the shipping carrier and the destination of the package. Absolute Pro Music will do its best to work with the shipping carriers to make these changes so that your package arrives at the correct address. Please be aware that not all shipping carriers will accept address intercept changes. This policy is in accordance with the security measures and agreements made with our third-party shipping companies.
Signature Required
Due to the valuable contents of some shipments, Absolute Pro Music may require a signature upon delivery. Such guidelines will not be overruled upon the customer's request. Please understand that this is a security measure taken by our Company to ensure the safe delivery of each package and guarantee excellent service. Many of our third-party shipping carriers and payment companies require signatures upon delivery to protect against fraud and theft. Customers may request a signature upon delivery by calling Absolute Pro Music Customer Service at +1(213) 744.11.44.
Shipping Policy Disclaimer
Delivery estimates do not apply to items shipped directly from the manufacturer, nor out-of-stock items. Some items that ship from the manufacturer can only be delivered to addresses within the 48 continental states.
Standard delivery time for domestic customers will average from 2-4 business days but can take longer in some cases. Saturday, Sunday and national holidays are not considered business days for delivery purposes.
Our Shipping Guarantee applies only to shipments delayed due to our service failure. We will not guarantee shipments that are delayed due to an act of god (ex: weather), a catastrophic event, or failure by our delivery partners. Our guarantee is also voided if incorrect billing or shipping information is given and results in your order being delayed to its destination. Our guarantee is also void if no one is available to sign for shipment when delivery attempt is made if a signature is required.
NATIONWIDE DELIVERY
At Absolute Pro Music, we are glad to ship to most countries! Check our list.
SECURE SHOPPING
We takes credit card information security seriously, we have implemented a variety of technical and procedural controls to ensure transactions on our site remain private and protected.
SHOP WITH CONFIDENCE
Absolute Pro Music wants to make sure that you are completely satisfied. If for some reason you aren't happy with product(s) and want to return it, we make returns simple.
HELP CENTER
You can simply give us a call at +1 800.674.27.24 , and our support staff will answer your call immediately! Explain your issue, what you'd like to change, or what you'd like to add onto your phone system, and get help in real time.