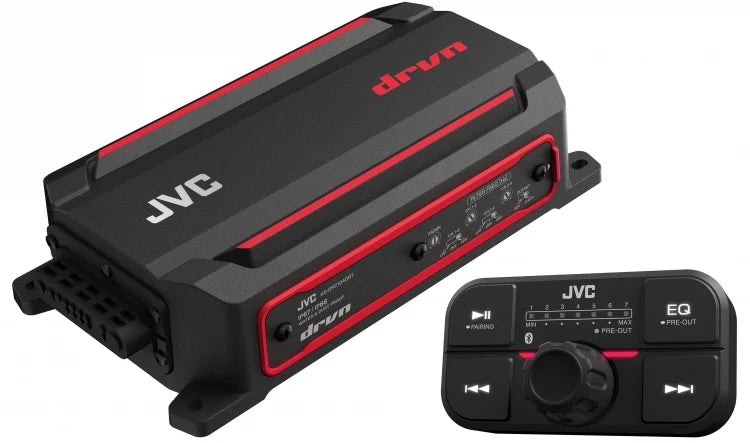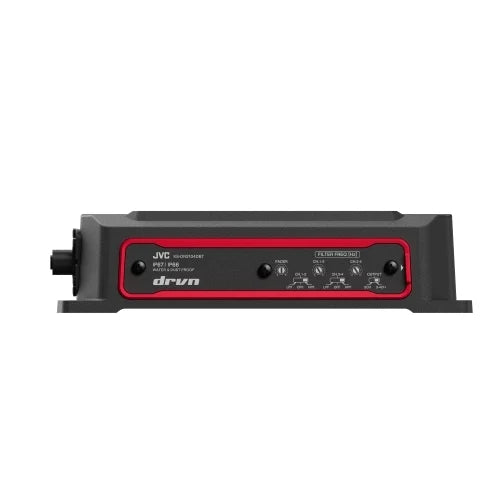 JVC
JVC KS-DR2104DBT 600W Class-D 4-Channel Amplifier Bluetooth Remote
$349.95
$499.90
JVC KS-DR2104DBT 600W Peak (200W RMS) DRVN Series Class-D 4-Channel Amplifier with Bluetooth Remote General Features JVC DRVN Series Class D 2 ohms Stable 4-Channel Amplifier RMS Power Rating: Total power output: 300 watts Pulse Width Modulated MOSFET power supply Corrosion-Resistant Sealed Cast Aluminum Chassis Polymer Multi-Layer Capacitors are utilized to lower distortion levels The amplifier doesn't corrode in a saltwater environment. Vibration can damage the amplifier if it is not designed to withstand it. This amplifier passes a 3-axis multi-frequency vibration test. Dust entry is restricted to avoid damage to the amplifier The amplifier mounting section is made of 15/64 inch die-cast material to suppress vibration amplification. The thick heat-transfer sheet was placed on the substrate, and the Aluminum die cast heat sink was used to suppress the vibration of the substrate. Thicker terminal connection points and increased wire size enables maximum current flow and higher output for better low-frequency response and cleaner output. A Drain Tunnel Structure creates a gap between the amplifier and the installation surface. This prevents saltwater and sand from accumulating on the bottom, increasing corrosion protection. High-Quality PMLCAPs (Polymer Multi-Layer Capacitors) are utilized to lower distortion levels, improving the overall listening experience at higher volumes while maintaining the integrity of the sound. Magnetic Shielding for the output coils reduces radiated noise, delivering smooth and accurate sound. Qualcomm Bluetooth 5.0 The Bluetooth antenna is housed inside the remote control. This provides a more sensible range for device connectivity, ensuring uninterrupted music playback. Versatile installation in tight spaces Protection against Immersion, up to 1 m (3 feet, 3 inches) depth This product passes a 3-axis multi-frequency vibration test Speaker-level (high-level) inputs 3-way protection circuitry (thermal, overload, and speaker short protection) Bass gain/level remote included Frequency Response: 10 - 20,000 Hz Signal Noise Ratio: 89 dB Variable high-pass filter: 50 - 200 Hz, 24 dB/octave Variable low-pass filter: 50 - 200 Hz, 24 dB/octave Variable Bass Boost: bass boost at 50 Hz Fuse Rating: 40A x 1 Dimensions: 7-13/16" W x 4-1/8" L x 1-15/16" H ⚠️Warning:This product can expose you to, known to the State of California, to cause cancer. For more information, go to P65Warnings.ca.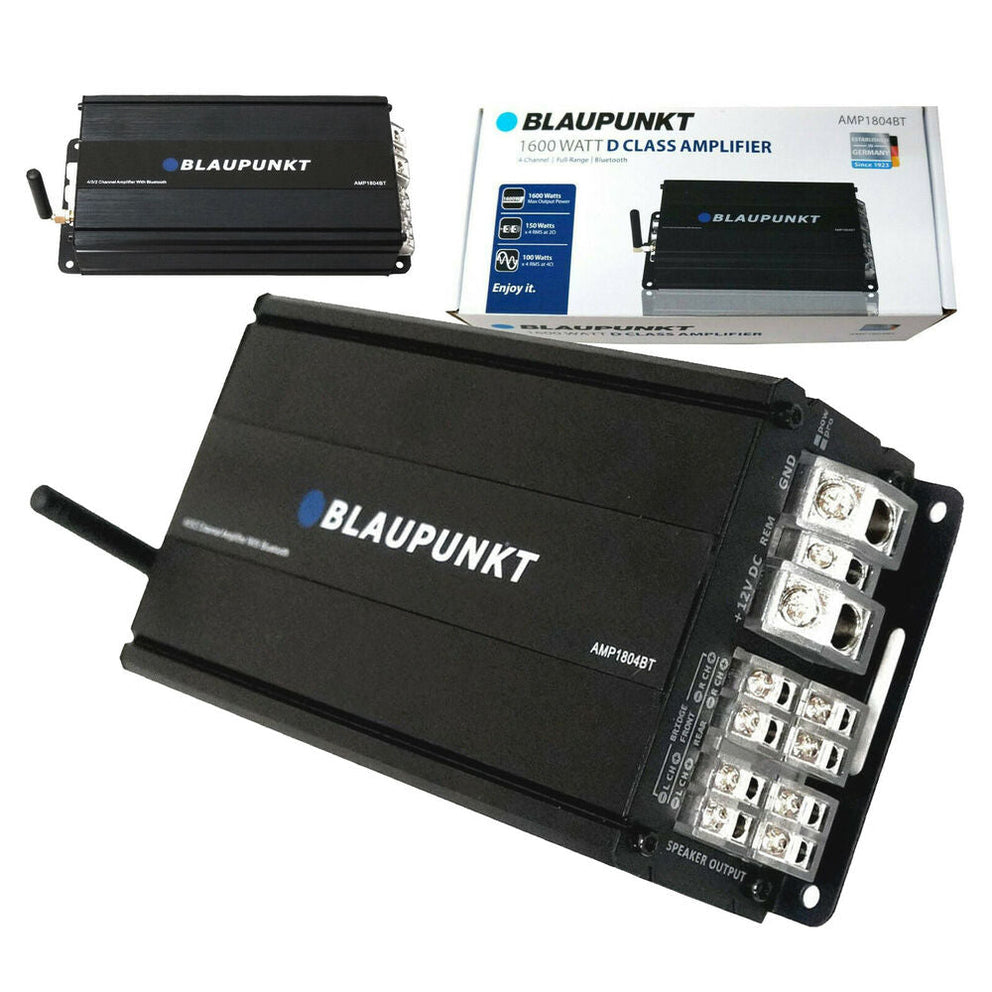 Blaupunkt
Blaupunkt AMP1804BT Car Audio 4-Channel Class D Amplifier 1600W with Bluetooth Full Range Amp
$99.99
$199.99
Blaupunkt AMP1804BT Car Audio 4-Channel Class D 1600W Amplifier w/ Bluetooth The Blaupunkt AMP1804BT 1600 Watts 4 Channel Full Range Amplifier embodies over 90 years of innovation and excellence in Blaupunkt products, making it the perfect amplifier to install into your motor vehicle. Max power output of 1600 watts, you can give your music a huge boost in power that will have you and your passengers partying while on the road. This slim amplifier fits perfectly into any trunk so you can easily connect it to your stereo system General Features: Car Audio 4-Channel Class D Full Range Amplifier with Bluetooth Power Rating: Max power output: 1600 watts Power Rating: RMS Power (2 Ohms): 150W x 4 Power Rating: RMS Power (4 Ohms): 100W x 4 Built-in 5.0 lossless Bluetooth 4/3/2 Channel Frequency Response: 10Hz - 30kHz Signal-To- Noise Ratio: =>96dB Voltage Supply: 11 - 15V DC Gain Adjust: 250mV-6V Total Harmonic Distortion: <=0.05% RCA Input: 4 Channel Crossover Frequency: 35Hz - 250Hz Crossover Slope (dB/oct): 8-10dB/oct Dimension: 6.7 x 3.8 x 1.8 inches ⚠️Warning:Cancer and Reproductive Harm-www.P65Warnings.ca.gov
NATIONWIDE DELIVERY
At Absolute Pro Music, we are glad to ship to most countries! Check our list.
SECURE SHOPPING
We takes credit card information security seriously, we have implemented a variety of technical and procedural controls to ensure transactions on our site remain private and protected.
SHOP WITH CONFIDENCE
Absolute Pro Music wants to make sure that you are completely satisfied. If for some reason you aren't happy with product(s) and want to return it, we make returns simple.
HELP CENTER
You can simply give us a call at +1 800.674.27.24 , and our support staff will answer your call immediately! Explain your issue, what you'd like to change, or what you'd like to add onto your phone system, and get help in real time.