Alpine BBX-F1200 Amplifier with Two Pair of Alpine S-S57 5X7/6X8 Coax Speakers, and Wiring Kit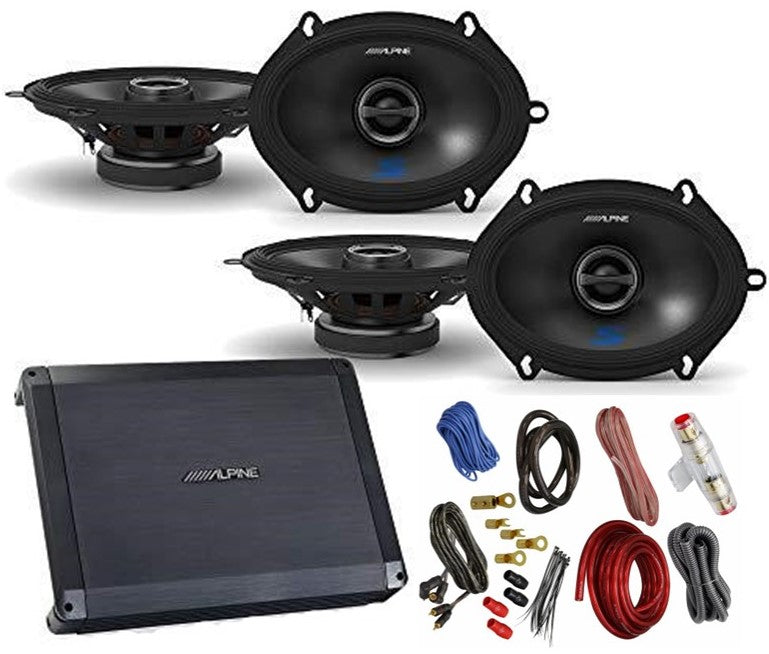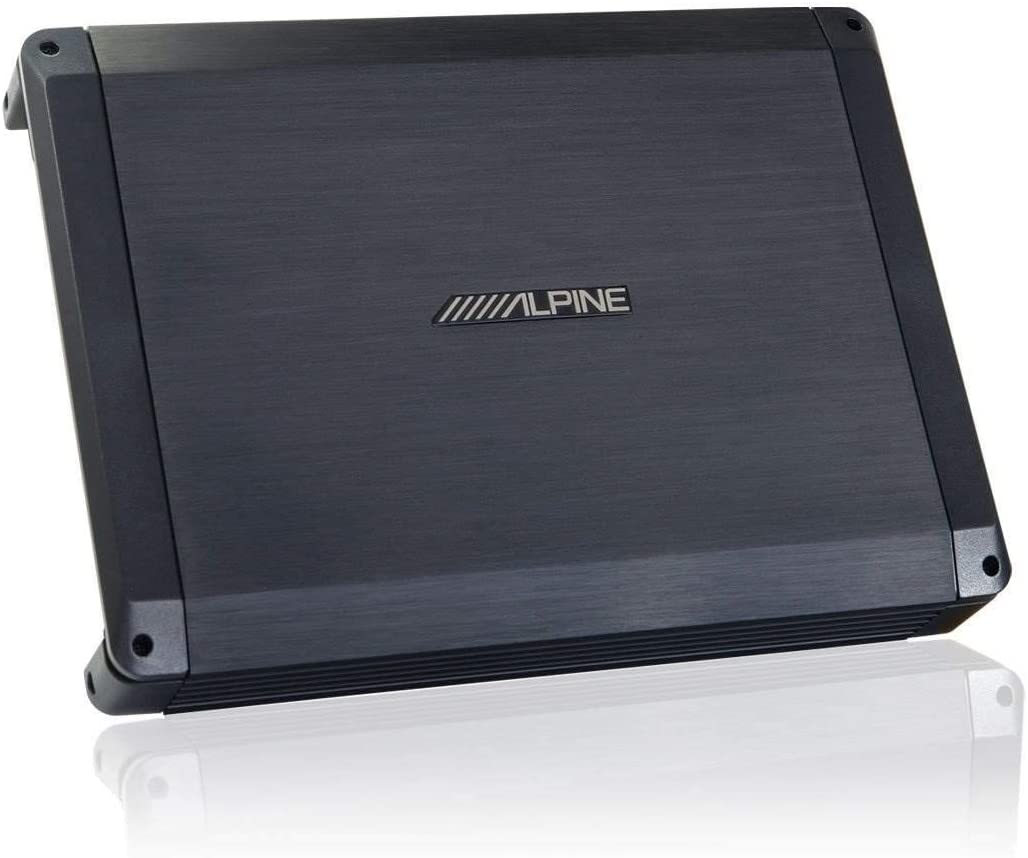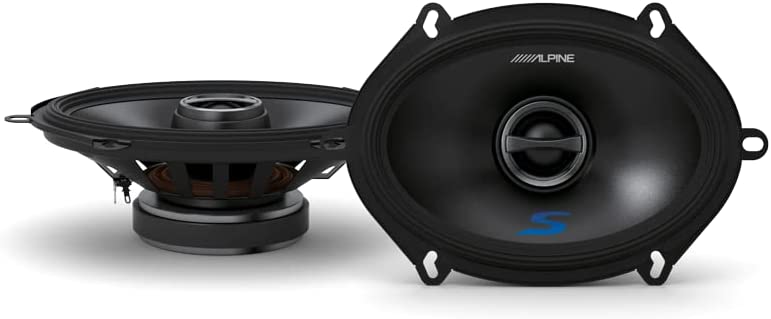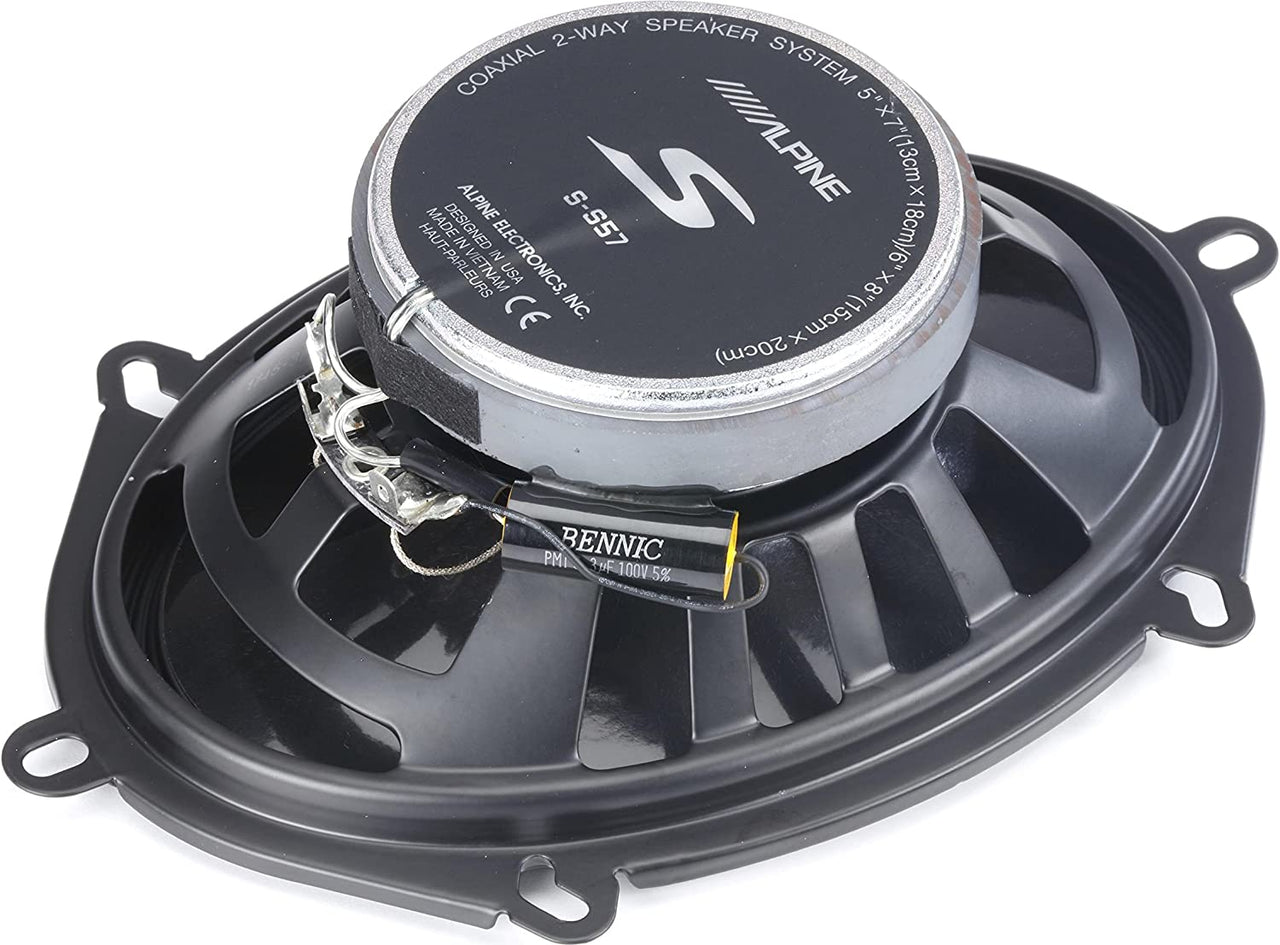 Alpine BBX-F1200 Amplifier with Two Pair of Alpine S-S57 5X7/6X8 Coax Speakers, and Wiring Kit
Brand: Alpine
SKU: BBX-F1200 + S-S57 x 2 + KIT4
Availability: In Stock
Guaranteed Fitment
Always the correct part
In-House Experts
We know our products
Description
Product highlights
Shipping + Returns
Contact Us
Alpine BBX-F1200 Amplifier with Two Pair of Alpine S-S57 5X7/6X8 Coax Speakers, and Wiring Kit

Alpine BBX-F1200 600W Max (280W RMS) 2-ohm Stable 4 Channel Class-A/B Amplifier
This new BBX amplifier gives you Alpine power performance at an amazing price. And they're designed to fit easily in virtually any system.
High Power, Great Value
This amp delivers high output power and exceptional performance for their class. A great way to expand your sound system on a limited budget.
High Pass and Low Pass Filters
These two filters let you set the frequency points for the high, mid, and bass ranges to match your speakers and ensure optimum efficiency.
Performance With Bass EQ, you can maximize the performance of your system and get even more powerful bass.
General Features:
Alpine BBX-F1200
Class-A/B 2-ohm Stable 4-Channel Amplifier
RMS Power Rating:

4 ohms: 50 watts x 4 channel
2 ohms: 70 watts x 4 channel
1 ohm: ------------N/A------------
Bridged, 4 ohms: 130 watts x 2 channel

Total power output: 600 watts
Pulse Width Modulated MOSFET power supply
LED power (green) and protect (red) indicators
Soft start turn-on
4/3/2 or channel operation
3-way protection circuitry (thermal, overload, and speaker short protection)
Dual speaker terminals simplify the hookup of multiple speakers
Heavy-duty aluminum alloy heat-sink
Input sensitivity: .2V - 8V
Frequency Response: 5 - 50000 Hz
Total Harmonic Distortion (THD): <1%
Signal Noise Ratio: 95dB
Variable high-pass filter: 50 - 500 Hz
Variable low-pass filter: 50 - 500 Hz
Variable Bass Boost: 0 to +12 dB bass boost
Fuse Rating: 40A x 1
Dimensions: 9.4"W x 12.9"L x 2"H
Authorized Dealer
1-year Manufacturer's Warranty.
Alpine S-S57 460W Max (150W RMS) 5" x 7" Type S Series 2-Way Coaxial Car Speakers
FITS IN MOST COMMON APPLICATIONS
To meet the needs of the most common applications in speaker replacement today, we've introduced a new 5x7inch component set to offer newer domestic trucks and cars the ability to upgrade the sound quality in their vehicle. This component set, with its innovative technology, makes it a simple solution to getting Alpine sound in many of these vehicles on the road today.
INCREASED DRIVING POWER AND CONTROL
The S-Series speakers have a large voice coil. The 6.5-inch and 6x9-inch models have a 35-mm voice coil, and this large voice coil size increases their driving power and control of the motor. The S-Series speakers are the first in the industry to use CFRP (Carbon Fiber Reinforced Plastic), a very lightweight yet rigid material. On a standard, off-the-shelf oval cone, the edges are naturally weaker than the center due to the elongated shape. Since the CFRP material is directional, it can be manipulated during the molding process to strengthen the areas of the cone that are generally weak. The result is rigidity throughout the cone that delivers accurate and efficient performance. The ability to manipulate the CFRP material during the molding process is currently exclusive to Alpine and the S-Series speakers. Alpine has three patent-pending procedures in support of this innovative manufacturing process.
General Features:
5"x7" S-Type Series TYPE Car Speakers/Component System
Power Handling:

Peak: 460 watts per pair / 230 watts each
RMS: 150 watts per pair / 75 watts each

Carbon fiber reinforced plastic cone
Patented HAMR surround
1.1" Silk dome tweeter
CTA-2031 compliant speakers
30MM Voice Coil
Top-mount Depth: 2-11/32"
Cutout Dimensions: 4-15/16" x 7-3/16"
4 ohms impedance
Frequency Response: 73 - 22000 Hz
Sensitivity: 88dB
Authorized Dealer
1-year Manufacturer's Warranty
What's in the S-S57 package:
Two 2-way speakers
2 Adapter rings
Two 12" Lengths of speaker wire
Eight 1-1/4" Screws
Eight M4x6mm Machine screws
8 Speed clips
Warranty information
Online product registration information
Important Notice sheet
Template and specs on the box
S-S57 owner's manual
Absolute KIT4 Complete PRO Marine 4 Gauge 2000 Watts Amplifier Complete Installation Amp Kit Power Wiring with Red Accent Color Scheme
Installing a car amplifier is already enough of a job without having to worry about where to find the right wire and installation accessories. What you might not know is that some companies are playing some gimmicks, and you could end up getting ripped off!
Today, I would recommend KIT4 for all DIY and Installer. This is a wiring kit with an easy-to-install AGU fuse holder and some seriously good wiring. The positive and negative power wires are made with copper-coated aluminum (CCA) wiring to keep costs down but remain highly flexible and installer-friendly. The speaker wire kicks ass, and I was not expecting such a high-quality roll of speaker wire to be included. It feels and works great, and it is much better than the typical 18 AWG wire most kits would include.
General Features:
Complete 4 Gauge Amplifier Kit
Designed specifically for car audio systems up to 1000 watts
Premium power and ground wire provide optimal power transfer
Includes 2-channel RCA interconnect cables for the audio signal connection from the receiver to the amplifier
Terminals are gold-plated for excellent signal transfer
For use in any car, truck, RV, or boat
Authorized Internet Dealer
1-year Manufacturer's warranty
Package Includes:
17 ft. of red 4 AWG high current power cable
Three ft. of black 4 AWG ground cable
15 ft. of RCA triple shielded interconnect audio cable with built-in remote wire
20 ft. of 12 AWG OFC Speaker cable
20 ft. of 16 AWG remote turn-on wire
Six ft. of split loom tubing
1 Gold-plated 80 AMP AGU fuse
1 4 AWG gold ring terminal
1 4 AWG water-resistant inline fuse holder
2 Ring terminals
2 Spade terminals (4 gauge)
5 Spade terminals (14-16 gauge)
3 Self-tapping screws
1 Rubber grommet
20 Black cable ties
2 Butt connectors (18-22 gauge)
1 Butt connector (4 gauge)
⚠️Warning:
Cancer and Reproductive Harm, go to www.P65Warning
Shipping Policy
Absolute Pro Music is proud to offer fast shipping at affordable prices. The shipping fee for each order is based on the package weight, destination, and shipping method. For the most accurate shipping information, use the "Get shipping quote" link on the product pages or in your shopping cart.
Shipping Methods and Transit Times
Absolute Pro Music ships orders from our Los Angeles, California location. On occasion, orders will be fulfilled directly by the manufacturer or distributor in order to reduce the shipping time. The shipping times below refer to items labeled with an availability of In Stock - Ships the Same or Next Business Day.
| | | | |
| --- | --- | --- | --- |
| Shipping Method | Order Processing Time | Delivery Time | Total Ship Time |
| Standard Shipping | 1-24 Hours | 1-6 Business Days | 2-7 Business Days |
| Three-Day Shipping | 1-24 Hours | 3 Business Days | 3-4 Business Days |
| Two-Day Shipping | 1-24 Hours | 2 Business Days | 2-3 Business Days |
| One-Day Shipping | 1-24 Hours | 1 Business Days | 1-2 Business Days |
| Flat Rate Shipping | 1-24 Hours | 7-10 Business Days | 8-11 Business Days |
United States Customers:
The shipping methods listed above are for residential and commercial destinations within the continental 48 United States. Absolute Pro Music primarily uses FedEx to ship orders. To provide the most affordable rates, small items shipped via Standard Flat Rate or USPS First Class Mail will be delivered through a joint effort by DHL and USPS. Shipments to military addresses and PO Boxes will only ship via USPS. When shipping to a military APO/FPO/DPO address, we strongly recommend choosing USPS Priority as the shipping time is much quicker than Parcel and averages about 2-3 weeks.
Canadian Customers: We offer all-inclusive shipping to our Canadian customers. (click here for details)
International Customers: We ship to most countries around the world. (click here for details)
Order Tracking
Once an order has been shipped, we send our customers an email with the tracking number for the order. Click on the tracking link in the email to follow the location of the package on the carrier's website. If you did not receive a tracking number by email or need to confirm the tracking information, please contact us at support@absolutepromusic.com or call us at +1(213) 744.11.44
Order Processing
Each order placed on Absolute Pro Music goes through our processing department before it can be shipped. If 3 business days have passed since you submitted payment and you have not received an email with tracking information, please log in to your account to track your orders and/or contact us immediately via email or phone. Customers who do not receive a tracking number within 3 days will receive an order status update via email.
Shipping to Alternate Address
Orders with different billing and shipping addresses may require longer processing times due to an additional verification procedure. The additional verification and processing time are in an effort to protect our customers from online fraud.
Shipping Changes Fees (Address Intercept)
If a request to change the shipping address is made after the package leaves the Absolute Pro Music warehouse, it is subject to an Address Intercept Fee imposed by the shipping carrier. The amount of the fee varies according to the shipping carrier and the destination of the package. Absolute Pro Music will do its best to work with the shipping carriers to make these changes so that your package arrives at the correct address. Please be aware that not all shipping carriers will accept address intercept changes. This policy is in accordance with the security measures and agreements made with our third-party shipping companies.
Signature Required
Due to the valuable contents of some shipments, Absolute Pro Music may require a signature upon delivery. Such guidelines will not be overruled upon the customer's request. Please understand that this is a security measure taken by our Company to ensure the safe delivery of each package and guarantee excellent service. Many of our third-party shipping carriers and payment companies require signatures upon delivery to protect against fraud and theft. Customers may request a signature upon delivery by calling Absolute Pro Music Customer Service at +1(213) 744.11.44.
Shipping Policy Disclaimer
Delivery estimates do not apply to items shipped directly from the manufacturer, nor out-of-stock items. Some items that ship from the manufacturer can only be delivered to addresses within the 48 continental states.
Standard delivery time for domestic customers will average from 2-4 business days but can take longer in some cases. Saturday, Sunday and national holidays are not considered business days for delivery purposes.
Our Shipping Guarantee applies only to shipments delayed due to our service failure. We will not guarantee shipments that are delayed due to an act of god (ex: weather), a catastrophic event, or failure by our delivery partners. Our guarantee is also voided if incorrect billing or shipping information is given and results in your order being delayed to its destination. Our guarantee is also void if no one is available to sign for shipment when delivery attempt is made if a signature is required.
NATIONWIDE DELIVERY
At Absolute Pro Music, we are glad to ship to most countries! Check our list.
SECURE SHOPPING
We takes credit card information security seriously, we have implemented a variety of technical and procedural controls to ensure transactions on our site remain private and protected.
SHOP WITH CONFIDENCE
Absolute Pro Music wants to make sure that you are completely satisfied. If for some reason you aren't happy with product(s) and want to return it, we make returns simple.
HELP CENTER
You can simply give us a call at +1 800.674.27.24 , and our support staff will answer your call immediately! Explain your issue, what you'd like to change, or what you'd like to add onto your phone system, and get help in real time.