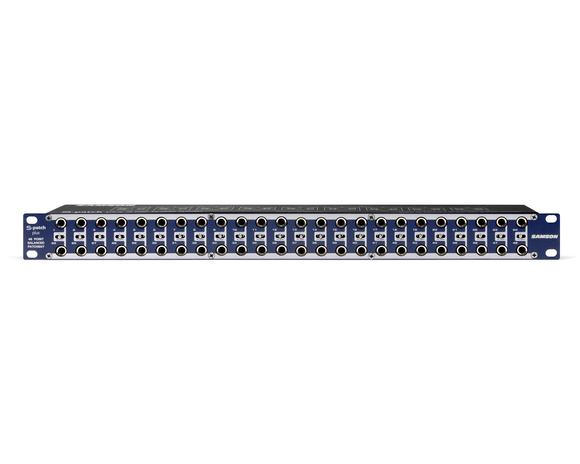 Samson
Samson SA-SPATCHPLUS 48-Point Balanced Patchbay
$149.99
$299.99
Samson SA-SPATCHPLUS 48-Point Balanced Patchbay  S patch plus 48-channel, fully balanced patch bay provides a convenient, central point to make all your audio connections. Featuring a solid construction with 48, 1/4" phone plugs on the front and 48, 1/4" phone plugs on the rear, the S patch plus will provide reliable operation while maintaining a clean signal path. In addition, the S patch features high-quality miniature toggle switches, allowing each channel to be configured for either Normally, Half-normalled, or Thru operation. And since these mini-toggle switches are conveniently located on the front panel, you can instantly change any channel configuration without removing the unit from the rack. S patch plus eliminates the need to constantly reach around the back of your mixer or equipment rack to make connections, helping you to work cleaner and faster. General Features: Fully balanced, extremely durable 48-point Patchbay Normal, Half-normal, and Through Mode operation 3-way Front Panel Mode Switches 1/4" TRS Connectors 19" Rack Mount Chassis ⚠️Warning:This product can expose you to, known to the State of California, to cause cancer. For more information, go to P65Warnings.ca.
NATIONWIDE DELIVERY
At Absolute Pro Music, we are glad to ship to most countries! Check our list.
SECURE SHOPPING
We takes credit card information security seriously, we have implemented a variety of technical and procedural controls to ensure transactions on our site remain private and protected.
SHOP WITH CONFIDENCE
Absolute Pro Music wants to make sure that you are completely satisfied. If for some reason you aren't happy with product(s) and want to return it, we make returns simple.
HELP CENTER
You can simply give us a call at +1 800.674.27.24 , and our support staff will answer your call immediately! Explain your issue, what you'd like to change, or what you'd like to add onto your phone system, and get help in real time.